The ripple effect of spin-outs: Improved services or just economies of scale?
Service providers are being enabled to spread their delivery model beyond the boundaries of geography and service type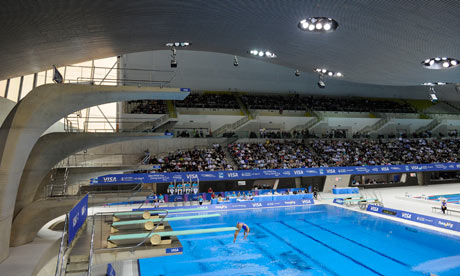 The Aquatic Centre in the Olympic Park is run by GLL, a company that has grown in the face of cuts. Photograph: Tom Jenkins
Recently a debate erupted on Twitter: would outsourcing services, where the focus is often on achieving economies of scale, be an obstacle to better services or an opportunity? While it's true that economies of scale are often treated with suspicion when it comes to the public sector, where the vision of private sector monoliths stacking it high and selling it cheap is understandably unwelcome, we are seeing a growing trend for service providers being enabled to spread their delivery model beyond the boundaries of geography or even service type. That's not necessarily a bad thing.
This is how outsourcing service provision can achieve economies of scale, but how can that move also unleash innovation? Does the act of removing administrative boundaries enable providers to look outside the original site or district? Or can enlightened contracting actually encourage increased innovation?
By spinning out, it has made the transformative potential available to more public services than if it had remained a service managed within the public sector. It is our observation that this trend is helping to build data and models that could generate a more forward-looking and innovative public sector.
We are seeing more expert agencies that are able to operate beyond a single local authority and, in doing so, move tried and tested ideas from one site to another without the expense of repeated trial and error. A good example is Pure Innovations, which has developed an innovative approach to social care and employment services. Once it had spun out from local authority control, it has not only continued to diversify and grow, but also been able to establish consultancy services.
These trends are interesting in that they offer solutions at a time when budget cuts and increased demand are prompting commissioners to seek alternative approaches. When an organisation spins out, it could be a success story, not only by achieving economies of scale but by also improving service delivery and increasing the public awareness of a diversity of models beyond the perceptions of conventional public/private sector delivery. In this way these new, enlightened providers are helping to build a more efficient and resilient public sector, fit for the challenging 21st century.