Why dentistry is ripe for a social enterprise invasion
SCA's Matt Jarrett says that the climate is right for social enterprises to deliver more and more dental services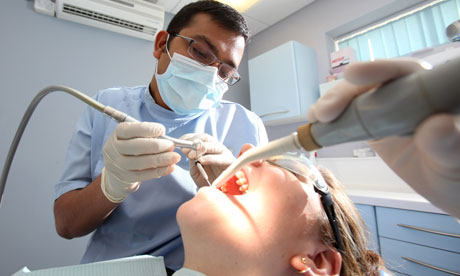 Dental services are open wide for social enterprise Photograph: Graham Turner for the
Guardian
Dentistry is big business. According to the Office of Fair Trading, the dental market in the UK is worth £7.2 billion annually and is predicted to top £8 billion within the next two years. But while the melee surrounding the competition elements to the Government's Health and Social Care Bill grows, privately owned practices have quietly been delivering the majority of NHS dental services in the UK for years.
They are providing a generally high and continually improving quality of service, but are making owners and shareholders rather wealthy in the process and concentrating business on the areas that deliver the best financial returns – a process accentuated by the recent growth in multiple practice ownership. In the heavily private field of dentistry, social enterprise can present a powerful alternative to the traditional privately owned practice model.
The development of corporate, multi practice dentistry as opposed to singly owned practises has expanded enormously since the early 2000s, when the Government relaxed the rules on ownership of multiple practices performing NHS dentistry. As a result, the Office of Fair Trading estimates an 85% growth in corporate dentistry supply between 2003 and 2010, to around 10.5% of all primary care dentists. Furthermore, in 2005 amendments were made to the
Dentists Act
(1984) to allow any corporate body to carry out the business of dentistry provided that it can satisfy the requirements in the Dentists Act (1984) and those of the
General Dental Council
and
Care Quality Commission
bonanza, but multi practice ownership of dental services does not have to be limited to the private sector.
The outcomes of high quality dental provision go beyond the immediate physical benefits of preventing pain to include improved personal confidence, improved job prospects and economic independence, improved mental health and wellbeing and better general physical health. Furthermore, the factors impacting on dental health are often well beyond the reach of the toothbrush or drill and include smoking and alcohol consumption, exercise, diet, housing and general physical health. As such, a more joined approach to the provision of good oral health services is not only welcome but essential. Next year NHS dental contracts will change to reward providers for quality and overall improvements in oral health and in this, social enterprise is well placed to deliver.
SCA Trafalgar
was established in 2005 to provide NHS dental services under a social enterprise model and now runs six practices across the south of England. On one level, receiving treatment from a Trafalgar practice feels no different to any other NHS dental practice – the building looks similar, the mouth wash is just as pink. But in other, more important areas the SCA Trafalgar model is quite different.
First, Trafalgar opens its practices in areas of high dental need, typically places that either have low levels of existing NHS provision or are especially socially disadvantaged. These are not the areas that generate the biggest financial profits, but they are the areas in which we can create the deepest positive social impact. As a social enterprise, it's how we demonstrate our success and it's crucially different to the private sector approach.
Second, all financial surplus is ploughed back into the organisation to support the further strengthening of its social aims. In practice this means investing in staff, improving buildings and running community engagement activities. SCA Trafalgar is also part of the SCA Group, a social enterprise that provides a wide range of health and social care services across the south of England, including home and day care for people with dementia, community transport and a health and wellbeing centre. The financial surplus created by SCA Trafalgar can support other services within the group that deliver in areas just as crucial, but work within tighter financial margins.
Third, the core mission of SCA Trafalgar is to improve the oral health and wellbeing of its patients, not to provide financial dividends to shareholders. As such it adopts a more holistic response to oral health, running outreach activities within its communities including healthy eating and smoking cessation classes, recruiting and training local people as staff and forming partnerships with fellow health providers in other clinical areas to create more joined up services. These are priorities outside the typical remit of a purely privately owned practice, but fall well within that of a social enterprise.
At this stage, very little NHS dentistry is delivered through social enterprise.
SCA Trafalgar and Genesis
are the two best known players in a sparsely populated field. But interest in the approach is growing, particularly from existing charities and social enterprises that are keen to diversify income, to build business in a growing market and deepen positive social impact.
Matt Jarratt is director of social enterprise development at the
SCA Group.
SCA Trafalgar, in partnership with legal firm Hempsons, are running a free seminar in London on 19 March exploring further some of the issues outlined here.
Register here.